Discussion Starter
•
#1
•
2004 TRX450R for Sale. $5000.00 OBO! No Trades. Can deliver to most GNCC and District 6 Races. Willing to travel within reason. Thanks!
Suspension:
-Houser +.5 A-Arms
-PEP ZPS Front Shocks w/ Covers
-Houser +1.25 Rear Swing Arm
-PEP ZPS Rear Shock w/ Linkage
Body:
-Fairly new black plastic
-IMS oversized gas tank
-Hiper dual beadlock front and rear wheels
-Razr II's all around.
-AC front bumper
-AC wide grab bar
-AC pro peg nerf bars
-Quadtech hood scoop
-Rear axle locking nut
-Moose block off plate
-GT Thunder Sprocket gaurd, along with a swingarm and chasis skid plate
Controls:
-Fasst Flex Handlebars
-Moose Fly Clutch assembly
-Cycra Handgaurds
-Gulfer Braided breaklines
-New EBC break pads; both front and rear
-New Breaken Wave Front Roters
-Pro Design Kill Switch
Engine:
-Big Gun Evo X Slip on exhaust (UPDATE: Just switched over to a brand new HMF Exhaust kit and also installed a new radiator.)
-Hinson Clutch Kit
-Twin Air or Uni Air Filter w/ proper outerwears
-TM Design Works Case Saver
-New Moose front &rear sprockets
-Sunline Chain
I probably forgot some things. Bike is in great condition. Engine was completely rebuilt this winter. 13:1 high compression piston added, along with titanium valves, new gaskets, rings, ect. Runs GREAT! If you have any other questions, please don't hesistate to ask! Thanks! You can email or call (570)772-1482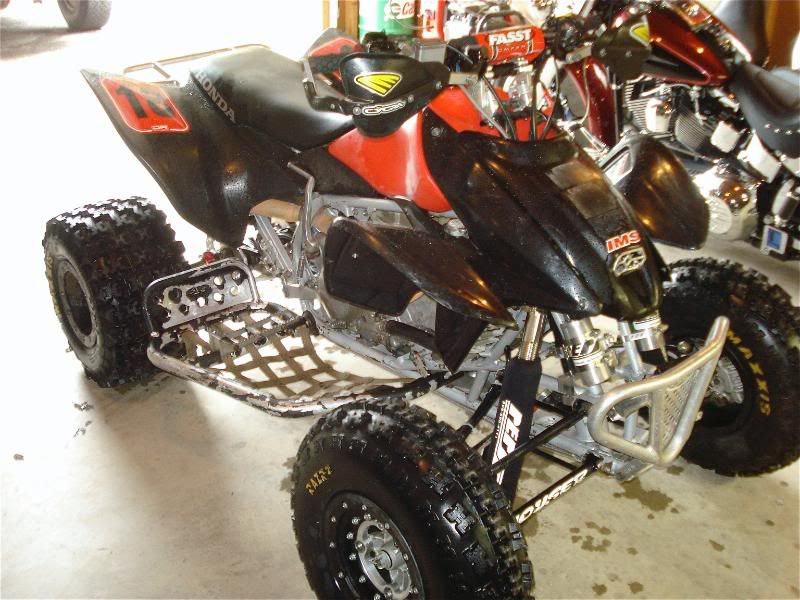 http://i41.photobucket.com/albums/e277/cjschrei/DSC02173.jpg
http://i41.photobucket.com/albums/e277/cjschrei/DSC02175.jpg
http://i41.photobucket.com/albums/e277/cjschrei/DSC02184.jpg
http://i41.photobucket.com/albums/e277/cjschrei/DSC02181.jpg