Discussion Starter
·
#1
·
so, if anyone has been following the progress (or lack thereof) of my wheeler, you will know that my crank totally checked out. i was going to try and get everything rounded up and try to get it back together to make another race or 2 this year, but i decided not to rush myself and start the winter rebuild early.
im thinking colors for the frame and such, and i always liked the bike nathan dallas had years ago, like early 00's. it was a legacy bike, 250R with red 400ex plastic and a white frame. i beleive in 03 ironman john natalie took over and the bike was then a hybrid crf450 built by TC with the same scheme. the bike can be seen in huevos 6, during the last segement (i think its rousch creek, all i remember is the hot chicks with guns!!!) if anyone has any pics or more info on either of those bikes please let me know!
so heres my plan. go with white frame, get my laegers redone in the same hammertone grey, and the red plastic, and my carbon fiber hood.
im also open for more ideas, my red plastic is in really good shape, so im not really looking to replace that.
also, those with the white frames, how hard is it to keep clean?
found a pic!!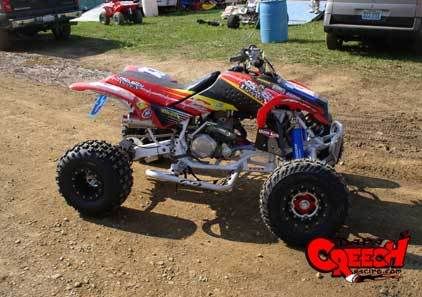 thanks
Eric