this will be a project considerable time... so if you guys would so good as to not get on any huge derails or debates until i can get it done, that would be appreciated...
i have wanted to chronicle all for the interested do it yourselfer on the 2 different TRX 450 head styles:
the EARLY 94mm bore 04-05TRX's
and the later 06 and up 96mm bore TRX's
... but WOW is picture compiling and cataloging...plus darn slow/ dead stop being my 2 typing speeds making this a BIG undertaking for me....
at least i will be able to say i have all the pics now, and have at least begun the writing...
Porting ... Theory....Tools....Technique
this is a HUGE topic...and it's going to be hard to explain everthing i detail on the first go around... especially since i am a 2- finger typer...
i have to assume that the majority of you do not do engine develpoment for a living...and i also know that there are many quite versed in engine dynamics, but have yet to add porting to your engine building/tuning skills...... so i will explain a lot of stuff that some of you already know, to put a little background theory in for those just starting their engine addiction...
i want to be able to do a beginning draft and then come back in and fill in all the blanks and tangents that would be too time consuming to finish on the first go around... or even the third go around....
first i have to say that in engine dynamics...everything has an effect on everything...
so i guess i just have to start somewhere and talk my way in widening and meandering circles....
OK ... you need to think of an engine as a complete unit, rather than a collection of parts... if all the parts are trying to do the same thing, then it's like all the members of a tug of war pulling simultaneously...if not, all parts may be stallar, but not working together at the right time in the powerband...
simplified, our engines are an air pump... except that between the getting in and the pushing out... we have a bit of gas mixed with our air so we can burn it an make a powerstroke in between...
the collection of the parts... intake.. carb ... cams ...exhausts ..etc.. all are trying to add their part of efficiency to an engine.... and no matter what part you put on or in, they all need to make use of the engines flowparts/ ports /porting in the cylinder head... those flowpaths are sort of a hinge piece in the puzzle, since they infulence the connection and efficiency of all the other parts....
beyond the mechanical, there is another dynamic force that affects engine performance:
Pressure waves... intake tract resonance / waves that can be timed to have an extra , above atmospheric, pressure right behind the intake valves as they open over a desired rpm band...the waves can be positive OR negative.. good or bad... sometimes they are tuned to advantage...sometimes the engineers come up with clever ways to dampen or negate them altogether ... less of the good to also make for less of the bad...
there are also waves the work in the exhaust system.... propery managed they add efficiency to exhaust evacuation... and can also be used to work past the open exhaust valves and pull fresh intake charge into the cylinder before the piston can even start making vacuum....
timing those waves to work together during the short time when the cam has both the intake and exhaust valves open during overlap (piston near top during exhaust stroke + intake valves slighty open before intake downstroke begins) you can have resonances in the intake pressurising the intake charge above atmospheric AND the exhaust pulses creating sub atmospheric pressure in the combustion chamber.... that's where the engine sort of thinks it's supercharged... because it is... only by pulses rather than a mechanical supercharger....
still, all of it works through the ports in the cylinder head....
i really hope to go back and fill in and expand on all this...it's a lot of ground to cover if you dont already have a good technical base in engine dynamics...
from my experience and viewpoint, i also consider valve and valve seat geometry part of the "porting"... they are right smack in the middle of the flowpath..and their shapes influence airflow quite a bit when the valves are in the low to mid portions ot their lift... which happes twice per intake valve event... during opening and during closing....
on the same line of low to mid lift flow... the combustion chamber itself is part of the flowpath... when the valves are open at lower lifts, combustion chamber walls can also either block flow or promote flow , depending on the geometry / proximity to the valve
lets cover "valve unshrouding" first... for no other reason than i typically start there first.. . at lower valve lifts the flow is referred to as "curtain dominant flow" what that means is that the valves are lifted below a point where the overall limit to flow is at a point in the port itself... the amount of available flow area is still limited by what can get past the valve seat, the valve, and the crowded / shrouded parts of the combustion chamber...
once the valve is open a certain amount, the port itself will become the "limiter of flow"... cams and ports cam be changed to bias an engine to make use of one type of flow more than the other... big topic to cover later for sure...
back to unshrouding.... combustion chamber walls that are close to the perifery of the valve are a limiter of low to mid lift flow.... the very best combustion chambers as far as the design not shrouding any low lift flow potential, is found in the yamaha 5-valve heads and the Suzuki LT-R450 heads... more valves means more area available for low lift flow, when compared to just one bigger valve... one of several reason multi valved heads were developed in the first place...
the Honda TRX heads have more room to benefit from valve unshrouding... and especially the 94mm bore size of the 04-05 TRX heads.... everything about the first TRX was based on the CRF , just not the bore size...it was dropped from 96mm to 94mm.... meaning even more shrouding by combustion chamber walls with the smaller bore size
first a bit on the tools... what they are and where to get them... then the unshrouding / combustion chamber pics...Good Place to Get tools and info from:
CC Specialty.... family owned and i have been a customer of these fine folks since 1974... sure there are lots of places to get stuff from, but these are very good people to deal with for all things porting... even info !
good lord, i wish they would change the cartoon drawings they have though... still the same catalog cover as the one i had in 1974
Tool Types next.... i use hand held die grinders and a variety if cable driven tools ... mostly all of that helps me with work flow since i dont have to change tools in a handpiece all the time... i just swap to a pre-loaded handpiece... if i had to pick one tool setup though, i could get it all done with the stronger / square shaft drive cable tool, and just swap,tool pieces in the handpiece...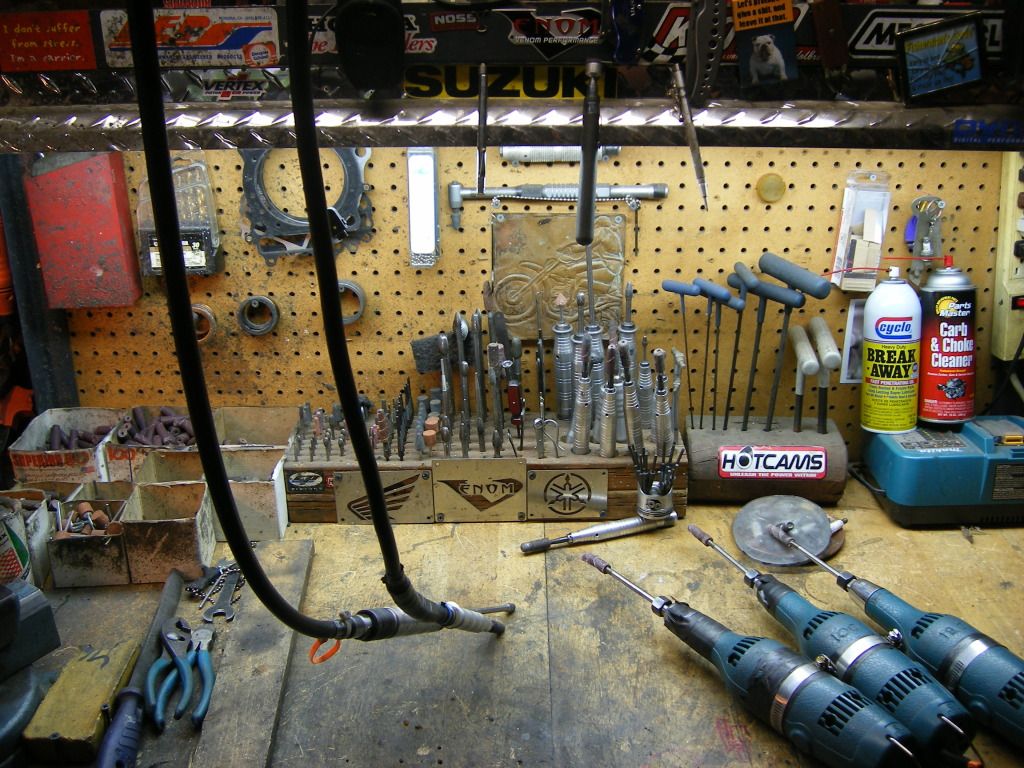 then the carbide cutters for fast material removal... these are my 2 most used styles of carbides.... "egg shaped" and "rounded tree shape"
then Stones , for cutting down valve guides...and Cartridge Rolls (aka tootsie rolls) which are for smooting, blending, polishing... depending on the grit you choose.... i would from 60 grit coarse for quick blending /shaping , to 180 grit with jewelers rouge for polishing...and 100grit and 120 grit for in-between those levels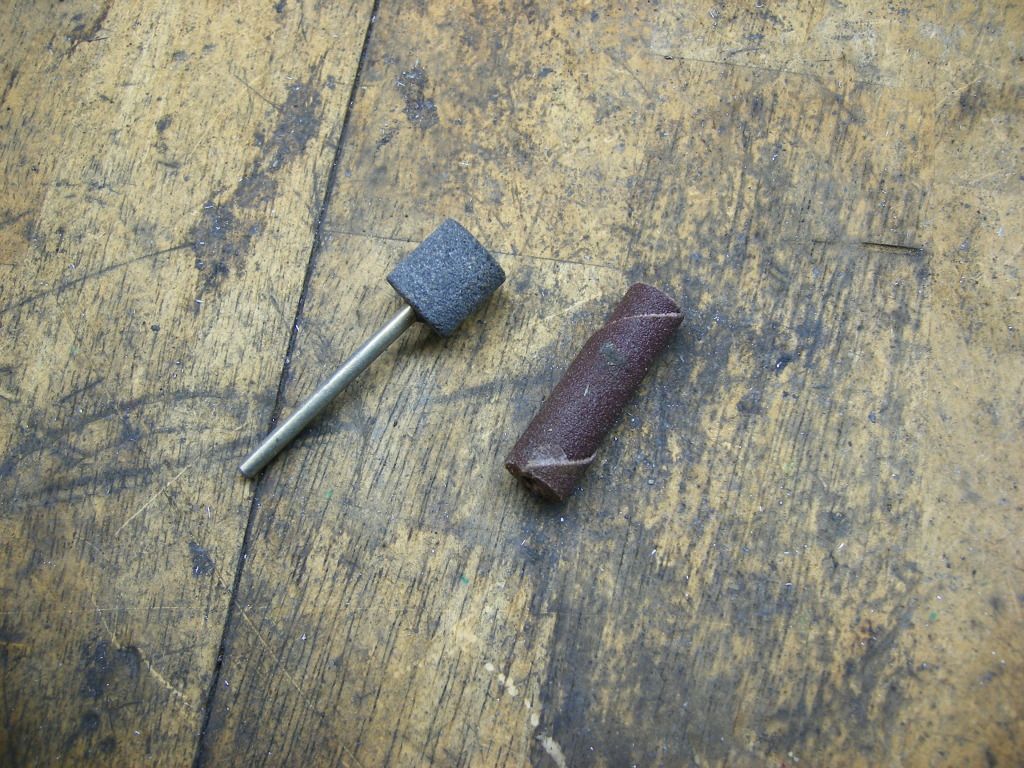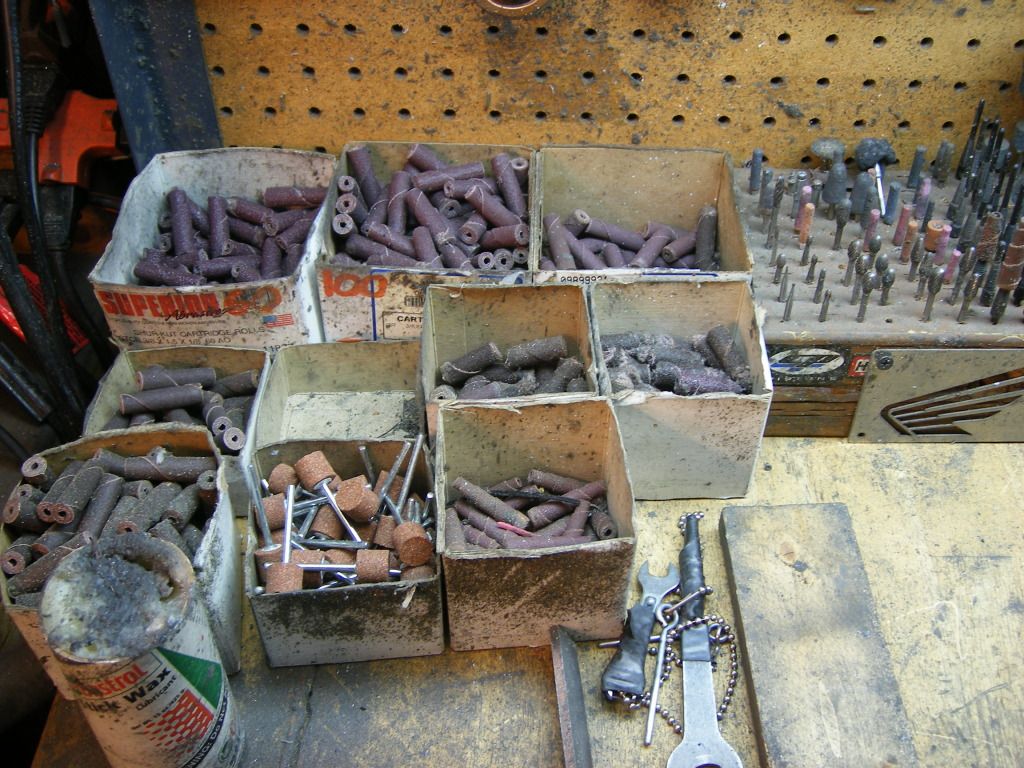 and another essential tool for porting is the shop stereo system... lol... if you dont play at least one Alice In Chains tune during the job, i'm sorry, it just isn't porting...
so... first off we will start with "unshrouding the valves" which means we will blend combustion chamber walls that are close to the valve and would inhibit flow while the valves are at "low lift" ... which happens twice per valve event...while starting to open, and then again during closing....
first I will show you a head that doesn't need much in the way of unshrouding work... the Yamaha 5 valve head on the yfz450.... im just cleaning up the edges because I cant resist.... but you will notice that in order to take advantage of the peripheral flow of a multi valve arrangement, Yamaha engineers have left lots of open flow area around the outside edges of the valve seat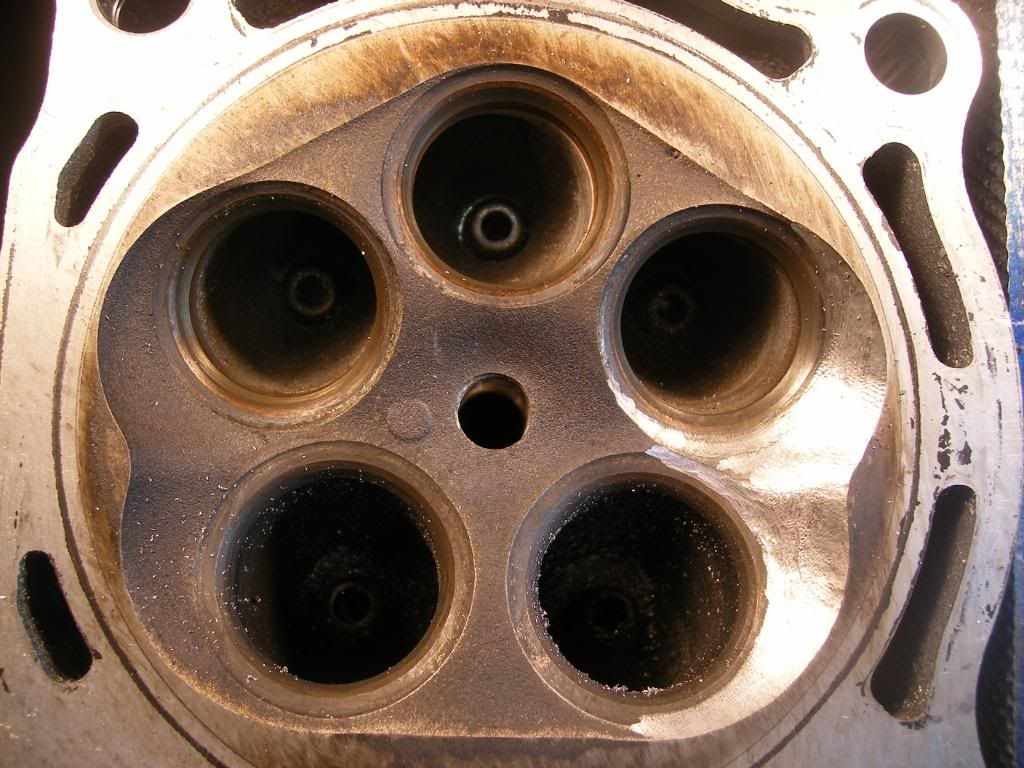 Next ....a honda trx head... this will show you a better pic to illustrate how a valve can have low /mid lift flow blocked by tight chamber walls
walls are very tight to the valves and you have some room for improvement here
and then this is the type of unshrouding I like to do using one of the 1/4" egg shaped carbides....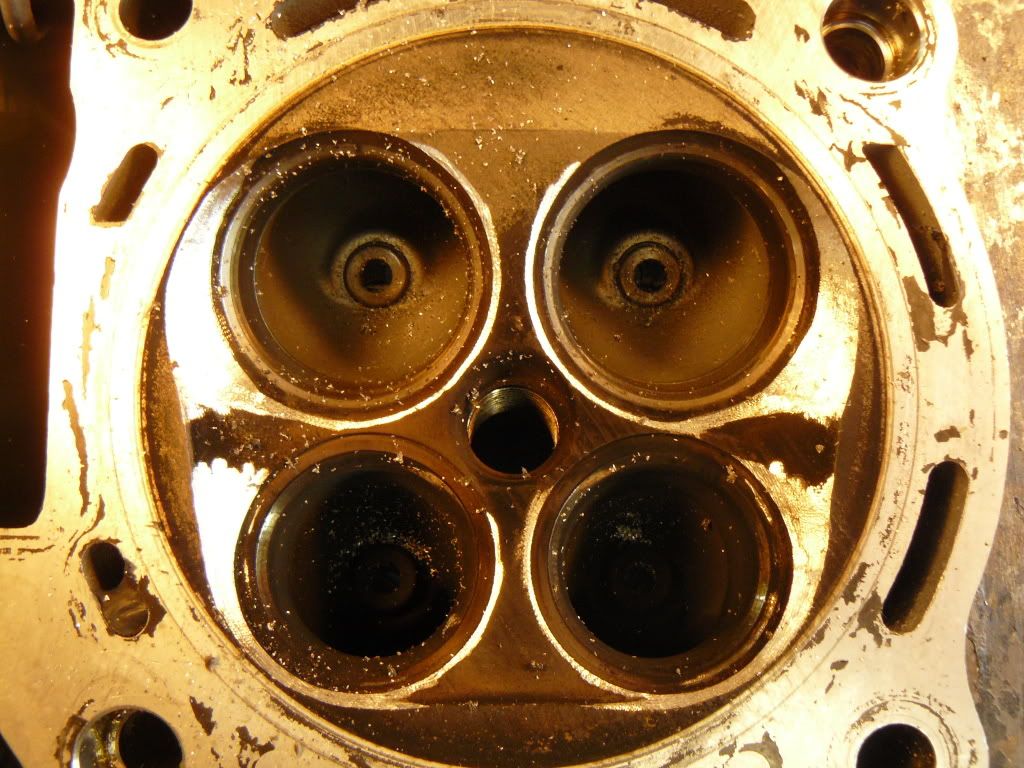 next up is the exhaust port....
port volume affects the port's velocity... naturally.... same gas volumes moving through tighter spaces would need to go at a higher velocity....
in ports, what you are looking for is to have an "efficient port" not necessarily just a "big port".... if volume itself were the only trick needed for efficient flow, then bigger and bigger would always be better and better.... but it definately isn't.... if you look into the hot rod muscle car era of the 60's and early 70's.... and then check out engines now... the engines they make now make more power over a wider band, as well as just plain more overall power... in the 60's the "bigger is better" rule was the word of the day for port sizes...now, the more powerful engines are making all that extra power with smaller ports.... big ports are lazy and slow flowing, and slow responding... efficient ports use the energy you get from velocity to make good things happen...
later, we will look at how both yamaha and honda made more power over a wider range when both of their 06 models ...and both of them made more power and throttle response everywhere by using higher velocity / reduced volume ports compared to the 04-05 models
the key is that VELOCITY is a huge factor in EFFICIENCY.... and an efficient port just plain flows more by making other things work ....
now...
in porting, the biggest influence is the shape of the infamous SHORT SIDE RADIUS.... hereafter referred to as SSR since i am typing with 2 fingers...and now i know i need to include a port diagram drawing with labels of what everything is at some point....if someone can find some good existing drawings to add, that would be great...and save me some work...
so SSR... the area directly behind the closed valve is known as the BOWL or THROAT where the bowl takes a turn towards the port RUNNER, the tight bottom turn is the Short Side Radius... the more relaxed turn at the roof is the Long side Radius....
the big airflow enhancing trick is to get airflow , moving at high speed, to stick to that SSR and make that turn to feed the back side of the valve.... high speed air ...like anything with mass at a high speed...doesn't like to make sharp turns... if the airflow separates from the SSR a couple of bad things happen... no flow to the back of the valve AND the port sort of chokes itself to a smaller volume with that overshot airflow making a restriction of its own....
so to get airflow to make a good SSR turn, you need to have a wider port floor (wider parts of a river slow the flow rate) and you need to make a smooth / gentle radius that the airflow can track...early on, ports with a wider SSR floor were called "D" ports because the wider floor looks more like a capital D laying on its back...and the making of the gentler SSR radius is called "laying it back", because yo take some liberty with moving the radius back a bit right where the turn is made....
NOTE: you can't.. or make that shouldn't have a radius that goes all the way to the valve seat... once the flow makes the turn it needs a good 1cm of straight bowl wall to let it adhere and straighten out before it needs to circumvent the valve....
looking into the TRX exhaust port from the combustion chamber:
and then in from where the exhaust header bolts up
then you can use the stones to take the steel valve guide down to the level of the aluminum at the guide boss.... and start with a carbide to blend everything into an aerodynamic shape.... you don't want to take a ton of material out because the big volume left over would make for slower exhaust port speeds and worse throttle response from mid or lower rpm...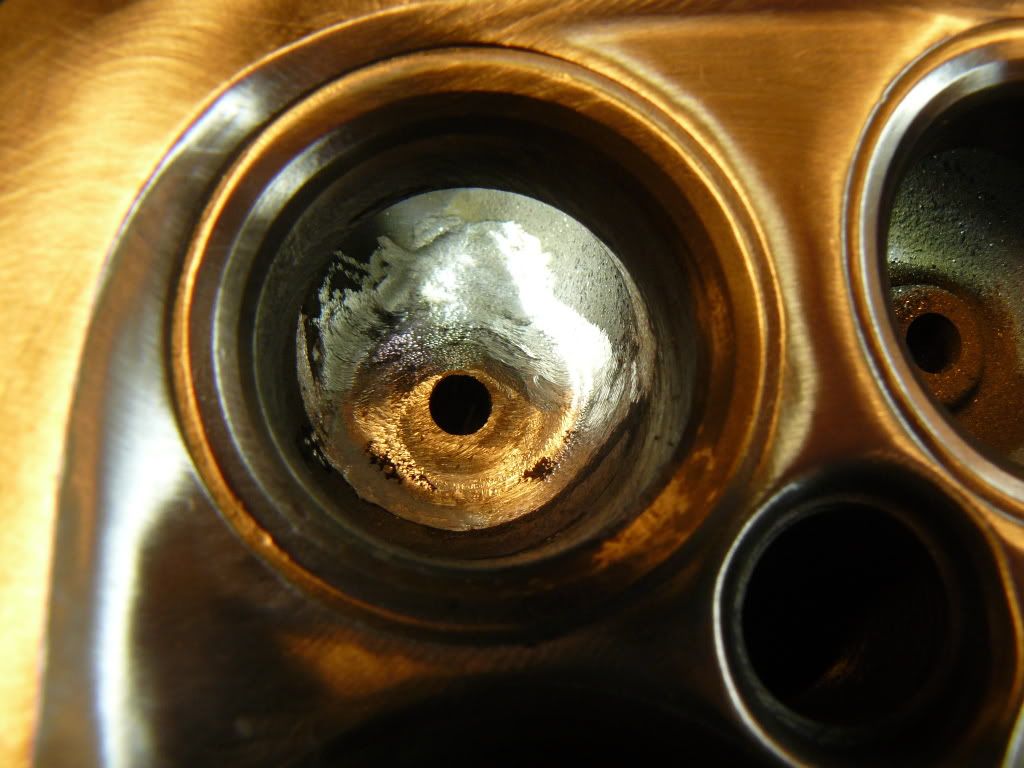 next you would concentrate on the SSR of the port floor.... wide / smooth / gentle radius is the rule of the day here.... carbide or coarse sanding roll to begin this work...
then you can go back and sequentially blend all your work here together with sanding rolls of finer and finer grades of grit...and then add in some jewelers rouge compound on the finest roll to get a shine....
the polish doesn't help flow.... it helps for cleanup from carbon deposits... a rougher surface is better for flow ... so no prob with polishing exhaust port...it will have a carbon surface on it within the first half hour of running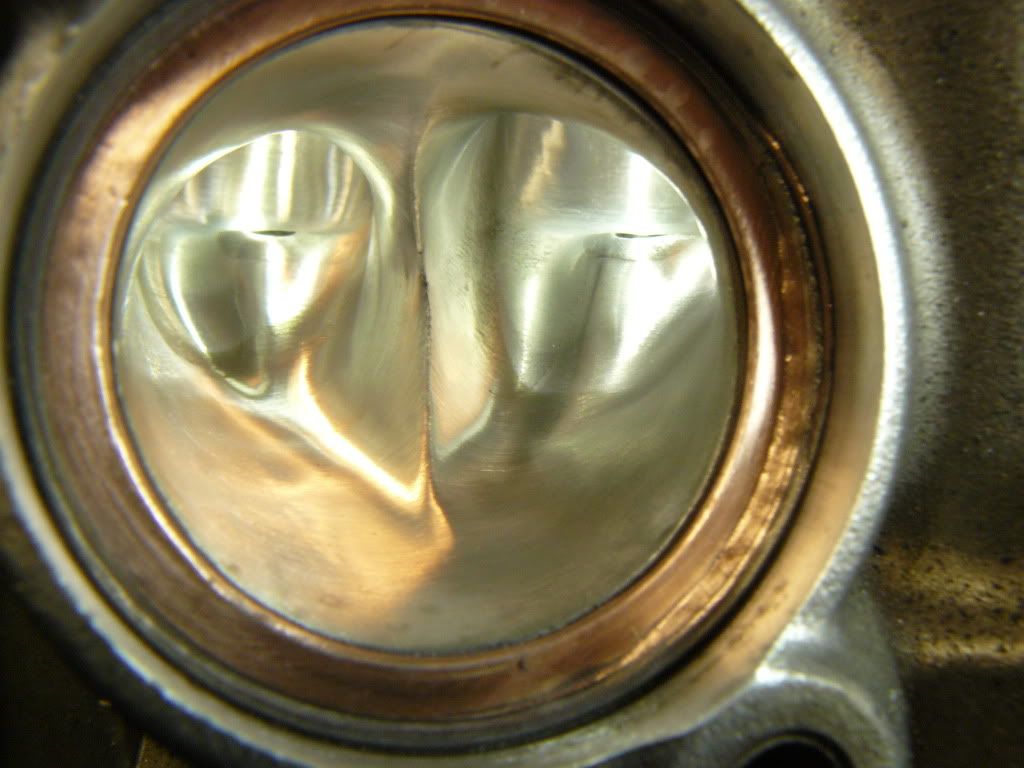 better pic of wide/ smooth port floor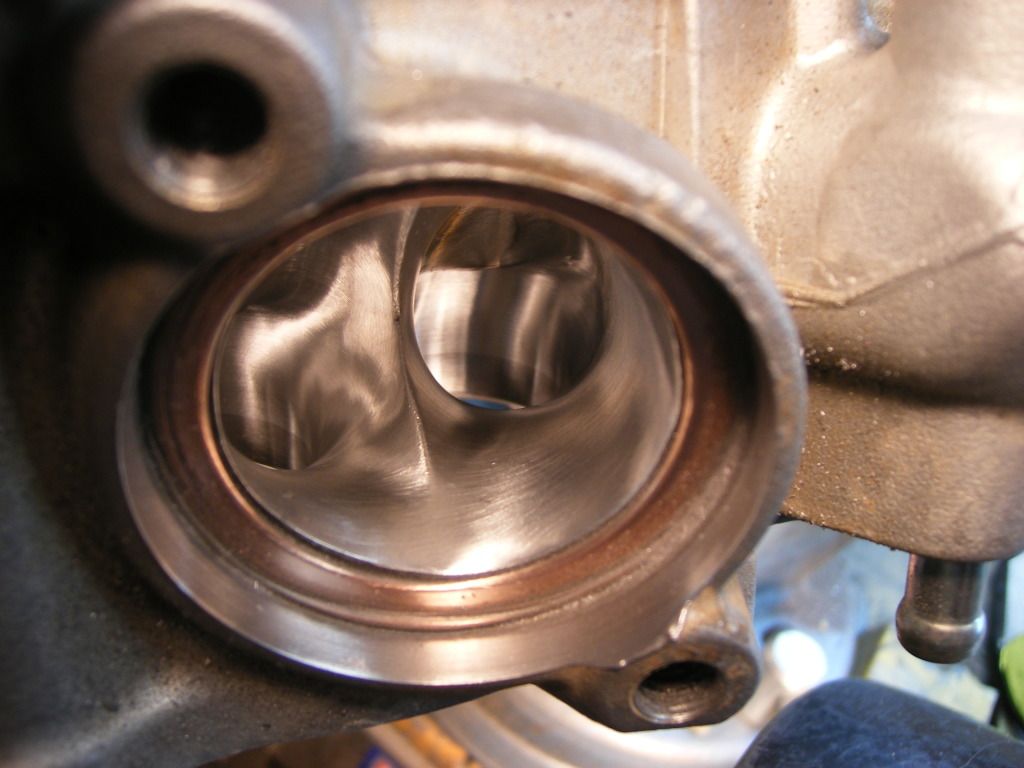 and its tough to get short side radius pics .... but here you want a smooth blended radius