Discussion Starter
•
#1
•
I want to start out by thanking Geoff at MMAD for taking the time out from his family to come to work on a Sunday. For anyone that doesn't know, he's very patient and willing to work with anyone. Even a hard head like me. I also want to thank Julio for letting me muscle in on what was really his dyno day.
This thread is to share information and knowledge gained about MY build and how MY build works with the parts I have around it. I recently posted a thread asking the question "what do you think of this curve". I run a +3 big bore Venom piston at 14:1 in an Athena jug and I run the +3 HR stroker crank. I also run the stock carb being fed through a modded ESR intake (courtesy of the Venom section-it's in a sticky on how to do it). That goes into a Venom head with KW valves in springs in all 4 corners and +1 ex valves. The cam is the HC3 and everything makes the fast exit into a Pulse Charger exhaust. All runs for me were on VP C-12 fuel.
I heard Julio was going to be making a trip out to dyno his build. He runs a stock bore 11.5:1 JE piston and the stock crank/rod/stroke. He also runs the stock carb being fed through the stock air box and intake with a foam filter. That goes into a Rage head with ferrea intake and stock ex valves, stock size in all 4 corners with stock springs. The cam is the HC2 and everything makes the fast exit through the DASA exhaust. All his runs were on 91 octane pump premium. I'm not sure if it was am/pm brand or Shell, but it was pump gas.
Both are 04/05 builds.
It was a good opportunity to re-run the bike on dyno tires and also get to go head to head with another bike same day, same dyno, no excuses. And I want EVERYONE TO KNOW>>>>>>>this guy Geoff running the dyno was a little un-easy about being put in the middle of this. He went out of his way to make all the runs same same. To the point that he was holding up the pressure gauge on the tires and having us verify strap tension on the bikes when on the dyno.
Here are the graphs on knobbies done back in December........................
and torque....................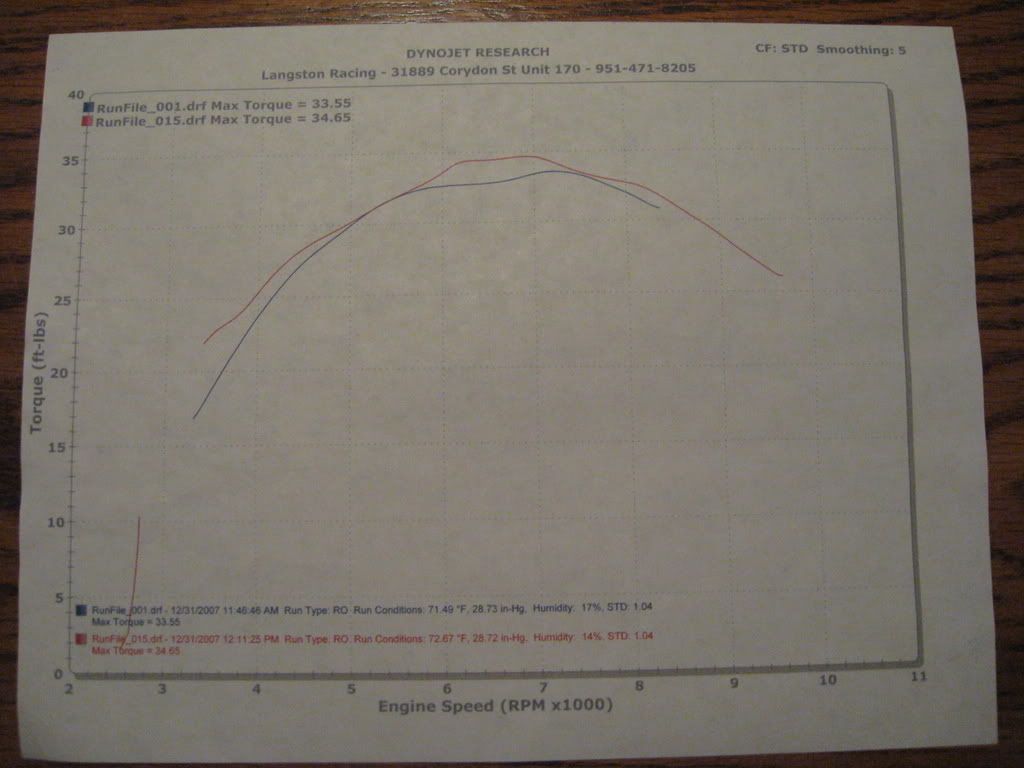 It made 50.49 and 34.65. Again, this is on a dynojet and knobbie tires.
Here are the new runs on dyno tires.......................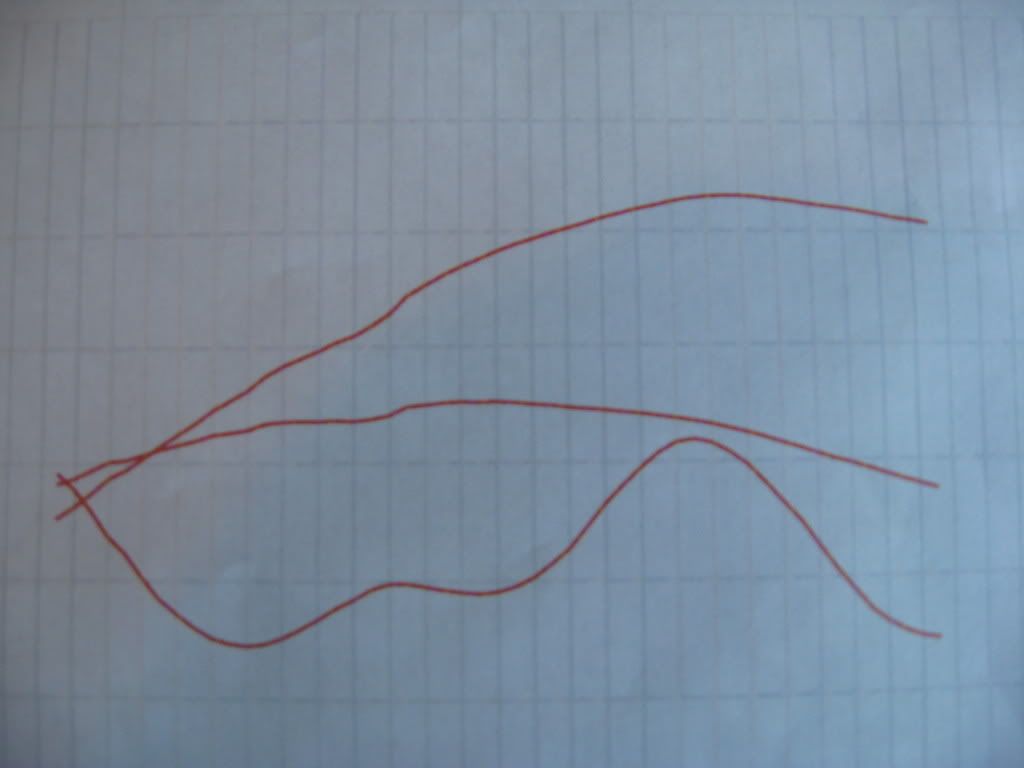 and vs. the rage build..............................
On the superflow, I made 53.2 and 34.x (almost 35) torque. Here is a phot of the torque line
with the paper line at 34. You can see it come up and over.................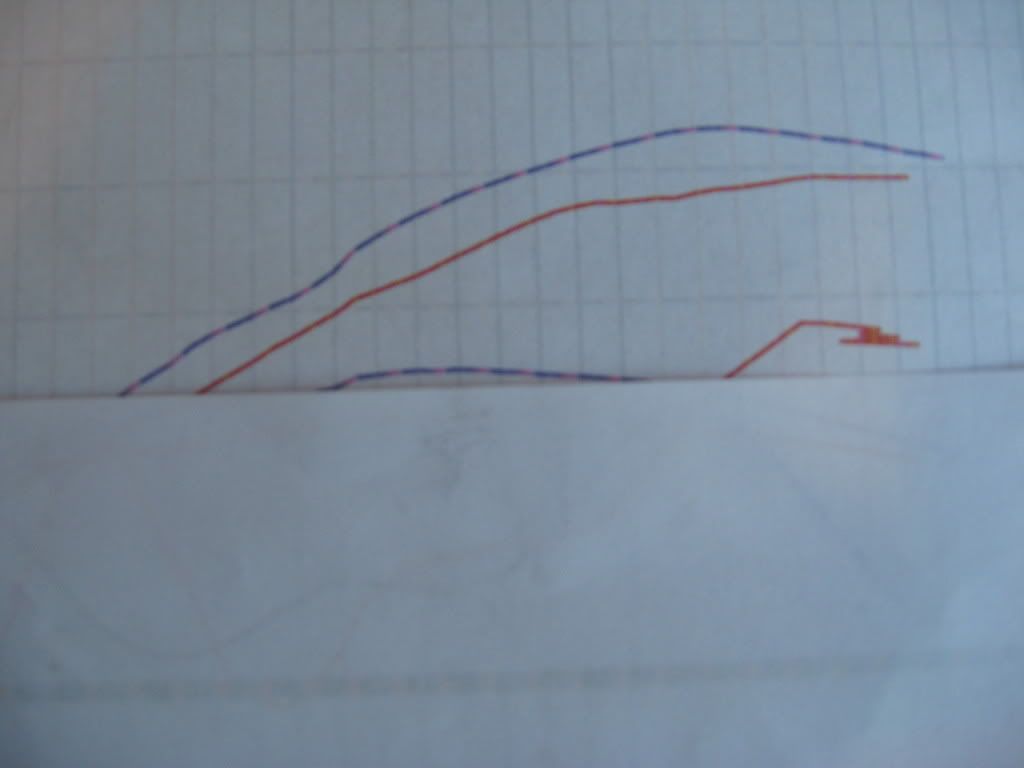 The printer was broke, so I don't have the exact torque number to memory. But the HP was 53.2 with the PC pipe in place.
So we now know the knobbies were not the reason for the shape of the curve. The HP peak on knobbies was at 8,200-8,300 and on dyno tires it looked to be 8,300 to 8,400. So right about the same. So maybe it's the old PC pipe? So I tried the DASA pipe. Had one there to borrow, it's been tried and true..............let's see what it does. To my surprise (everyone's really) the DASA pipe made only 1hp more than the pulse Charger. AND the PC had a stronger torque curve. The overall curve remained the same. No change. It's still rolling over before 8,500rpm. So then I tried the stock intake with an open box and a K&N filter. This set-up made slightly more torque down low with both pipes, but wanted to go crazy lean on top and roll over sooner with less peak power. So the ESR was clearly the better intake. So with the goodies I had, modded ESR and the 'ol pulse charger ran the best for me. But no amount of jetting changes or combinations could alter the curve.
It also was very surprising for me to see a pump gas stock bore 450 making within 3hp of my build pretty much from top to bottom.
At this point I am STILL looking for input into what is keeping this thing from revving. With the HRC cam in 480cc trim I was on the limiter all the time. That just doesn't happen with this build. I don't know what I'm going to do. It's not the tires and that pipe still holds it's own. And the HC2 was pulling more r's than the HC3, so I am reluctant to blame the cam. I did not have a big FCR to try, but I am unsure of what that would do here. I am truthfully a little disappointed at this point.
I feel like if it could keep the curve rolling up, this thing should rip up over 55 or 56 on this dyno.
Any input is APPRECIATED!!!!!!!!!!