Discussion Starter
•
#1
•
Quick Notes :
Factory Pro
seems to have the best tuning software - Fits in a enclosed tailer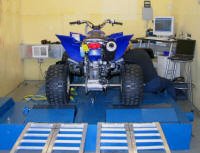 Mustang
- Factory is located in Ohio - Fits in an enclosed trailer - Will also make a custom roller for it so it's 100% portable.
Dyno Dynamic
-software unknown (wasn't able to talk to anyone)
Superflo
- Will not fit in an enclosed trailer
Land & Sea
- affordable - nice brochure lol
Dyna
- I love the looks - also fits in an enclosed trailer (only found car dealers who had them in the states - popular in UK)
DynoJet-
1 sales guy was sorta cocky.. I waited a couple days before I called back hoping to get someone else. The second guy was extremely helpful and answered most of my questions. Unlike some of the other dyno manufactures they could not special make anything. It was really hard to get any real technical answers that wasn't already in the brochure.
I'm leaning towards the Factory Pro, Mustang , and DynoJet Dyno
The
Factory Pro
seems to have the best software with the 4 gas system. (It relies on more than just the 02 sensor to tune) . ( 4 gas system is an option with the mustang dyno)
www.factorypro.com
The
Mustang Dyno
is up the road basically I can save thousands of dollars just by driving to pick it up. I can tune a bike the old fashion way by an o2 sensor alone or use the 4 gas option.
www.mustangdyno.com
The
Dynojet
has two important things going for it... One is the name... 2nd the power commanders.
It is too large to fit into an enclosed trailer being 9ft wide and 9ft long. The dynojet only relies on 02 sensors that can foul out with leaded fuels. The tuning software is sorta basic when it comes to the mustang and factory pro... It also reads higher hp than the mustang and factory pro dyno.
www.dynojet.com

What do you all suggest ?
I'm also open to used mobile ATV/Motorcycle dynos