TRX90 Rider
Join Date: Mar 2009
Posts: 15
So I have an 07 Honda TRX450er. I would say its still close to new. Just went through the first tune up not to long ago and has few hours on it since. The quad was running great and then I put it in my storage unit. We started the move process so I didnt make it back there for the past three months.

I realized that for the 3 months I left the gas valve ON. I tried starting the ATV and cant get it started. The battery finally died from me trying to start it. I checked the plug and its still good. Smells of gas pretty good. I tried pushing it in second gear and popping the clutch and cant get it started that way either.

What should I do maintenance wise to get this baby running again? Be for-warned I am not too engine/carb smart. Someone from work was saying I may have a drain bolt on my carb and I should turn the gas valve off and drain the stuff from the carb then turn gas back on and fire her up and that should work. Is there truth to that?

Thanks for any help... I hate owing 4k on something that isn't running, LOL.
Sounds like stale fuel. I would drain it and start with some fresh fuel. Disconnect the main fuel line at the carb and drain the tank. As for the carb, there is the main jet cover on the underside of the carb that looks like a large bolt head but, you do not have to remove it. Instead, when you drain it, there is a flat blade screw valve that will drain the fuel bowl out through a black fuel line that is routed from the bottom of the carb to the gap between the rear engine case and front of the swingarm. Just by loosening the screw valve will allow the fuel to be drained so there is no need to unscrew all the way out. Try new fuel and see what happens.
---
theirs a screw on the carb to drain the float bowl. loosen that along with everything in your tank try fresh gas. give her a rip, if she doesnt start time to clean the carb!
---
2007
White 450er
Hiper LSR AtvFourplay Fox quadforce quadtech smc LRD hot cams custom axis AC Pro Armor HRE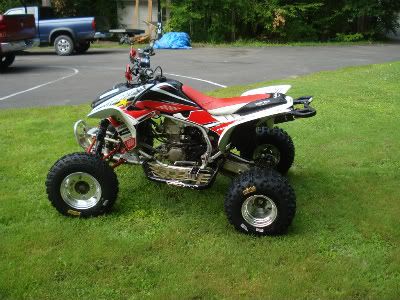 http://www.kbmotorsportsonline.com/
prob. more to do with a weak battery and/or gas going bad than anything else

(I never shut my gas valve off)
---
06 trx450r
2013 crf450r
2009 crf150r
08 trx400ex
08 trx250ex
2011 rzr S LE
Quote:
theirs a screw on the carb to drain the float bowl. loosen that along with everything in your tank try fresh gas. give her a rip, if she doesnt start time to clean the carb![/b]
turned the gas off...unscrew to bolt on the very bottom of the carb and let the fuel run out thats in the carb...thighten the screw back turn the fuel on and let it fill the bowl up in the card...a couple seconds...then it should fire...the gas in the tank will stay fresh for a while...but the gas in the card will go stale after a couple months...i did this to mine after a 4 month deployement and worked just fine...hope this helps