250EX Rider
Join Date: Feb 2011
Location: MA
Posts: 110
06 450ER fresh rebuild $3000 - MA
---
2006 Honda 450 ER
Just had Bettencourts Honda, of West Bridgewater MA, put a hi comp piston in, a brand new left side case, rebuilt the starer clutch, and the transmission. Cost me $2,056.67 and have the receipts to prove it.
J&E 12.5:1 Hi Comp piston
HRC Cam
HRC Jet Kit
R&D FlexJet adjustable fuel mixture screw
HRC Header
HMF Slip On
Uni Filter, Lid Removed
New 450R Clutch Springs
New Honda Clutch Plates
Full Pro Armor skids. A Arms, belly, swingarm
Rock Nerf bars
Pro Taper Bars
Tusk Stubby Gas cap vent
ODI Lock grips
New EBC Rear pads
Tusk Brake block off
ASV Clutch Lever
G-Force XC-1 wheels with ITP Holeshot Rears
G-Force XC Wheels with
Moose Polyurethane Case Saver
Black Blob Removed (kill switch button as starter)
Oil always changed with Shell Rotella
Also comes with a complete Hot Cams valve shim kit (used only once), fully printed service manual, and i'm sure im forgetting some things.
A little history: I am in the USCG and owned this 450 while stationed on a ship that is gone for 6 months out of the year. I barely ride, and all of my friends have moved on to motorcycles, and I have nobody to ride with. I keep the bike at my parents' house which is 45 minutes away. . which adds to me never riding it.
Late 2011 i was experiencing starter clutch issues, took it apart, and thought i had fixed it, but the bike developed an odd knock so i took it to Bettencourt's Honda. They completely tore the bike down and gave me an estimate for a complete new left side case (worn out bearing seats) and a whole lot more (view receipts) such as tranny gears, forks, etc. While it was apart i had them put a JE 12.5:1 piston in. I was deployed and left the bike at Bettencourts for 2 months, and picked it up on February 2nd, 2012.
Since repair, i have literally rode the quad 4 times. The thing is an absolute scream. The piston along with the cam really woke the bike up, but like i said, i never ride.
I am sure there is a lot i have forgotten but i plan on going to my parents house early next week to take pictures, gather extra parts, and see if i have forgotten anything.
Let me know if you have any requests.
Thanks
These are all the pictures i have as of now
Start button on old bars: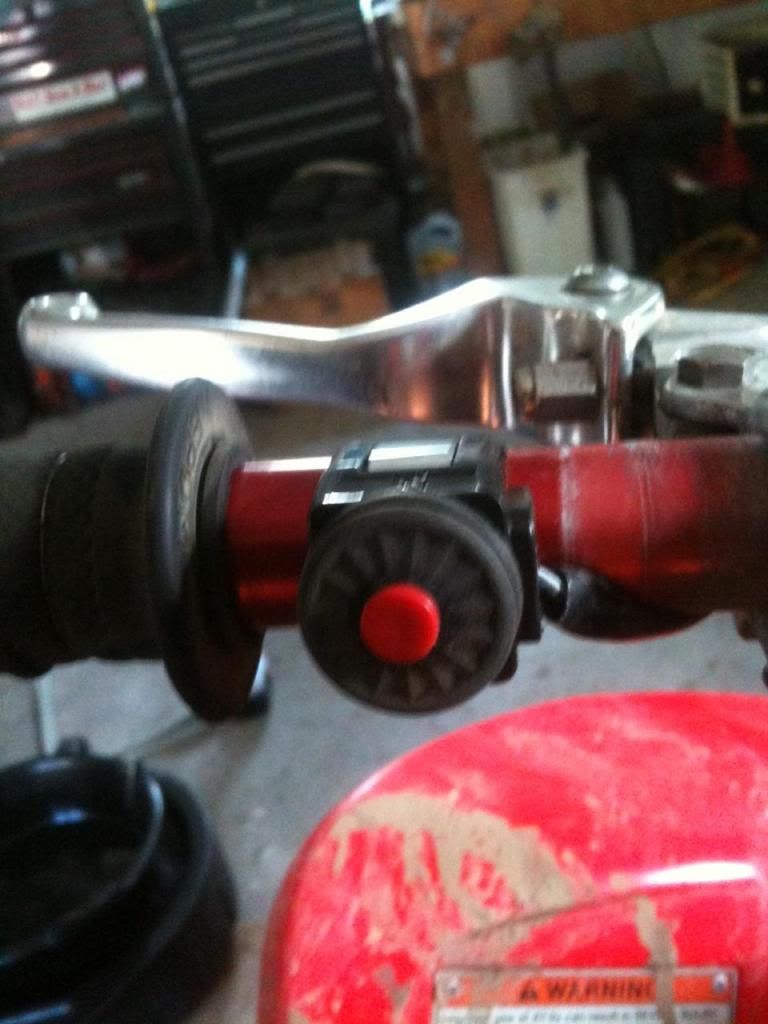 Full Skids:
Warming up before start: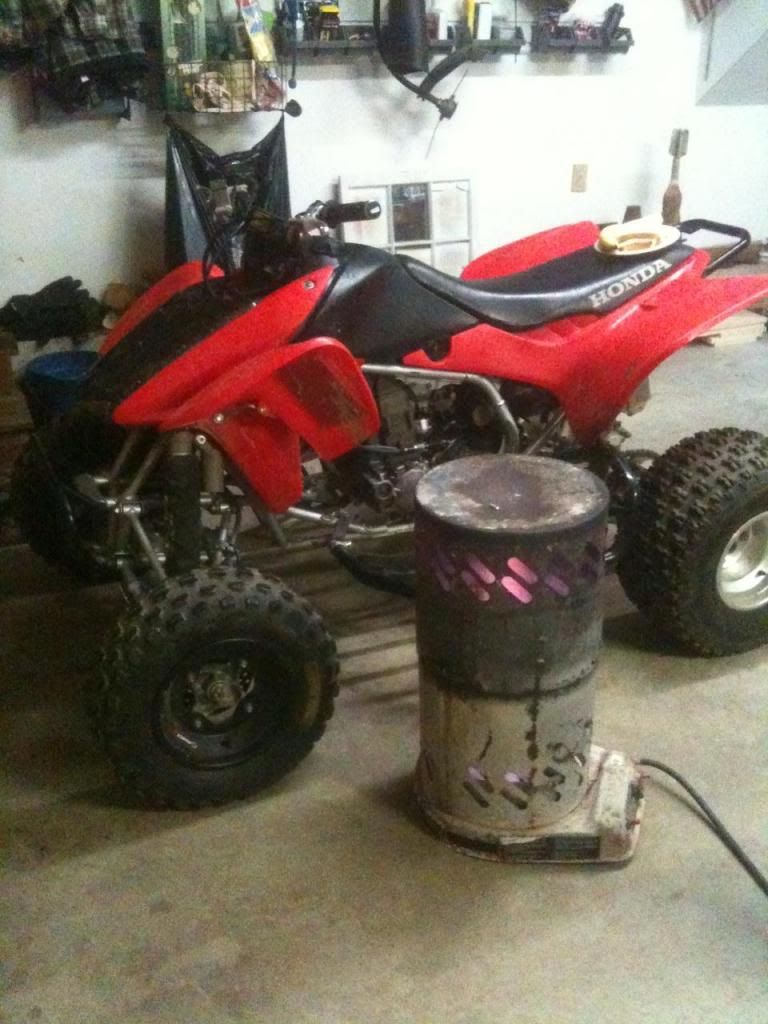 ---
06 ER
JE 12.5:1
HRC Jet Kit
HRC Header
HMF Slip On
HRC Cam
Uni Filter, Lid Removed
Pro Taper
Pro Armor
Moose Poly Case Saver
Black Blob Removed
250EX Rider
Join Date: Feb 2011
Location: MA
Posts: 110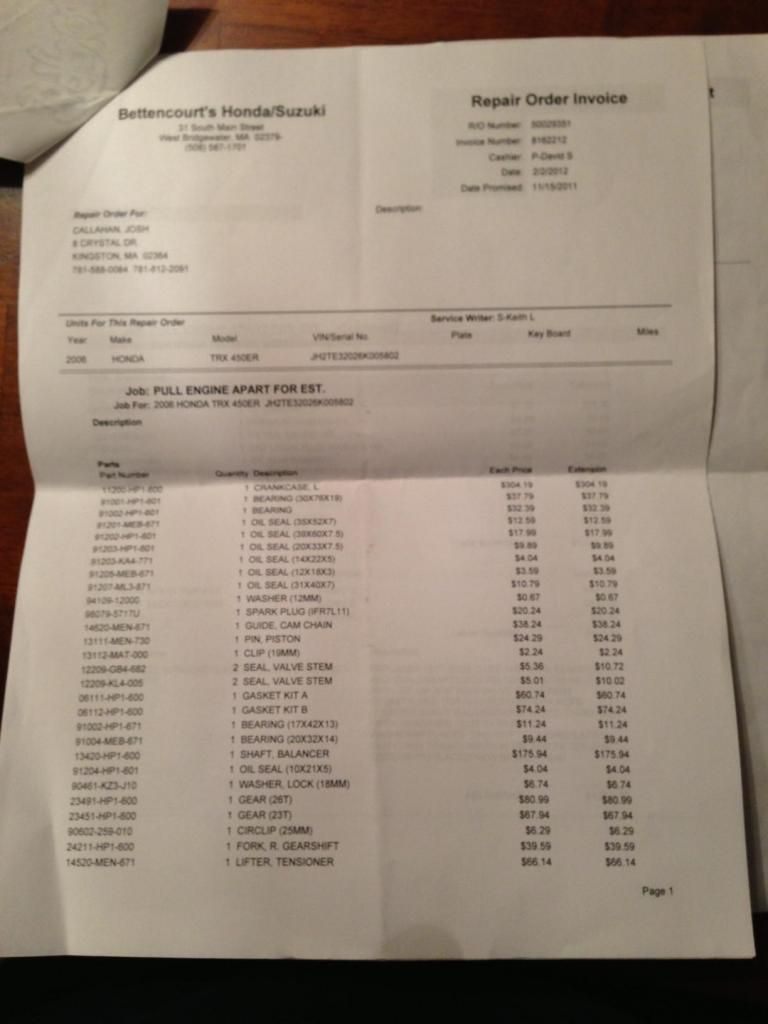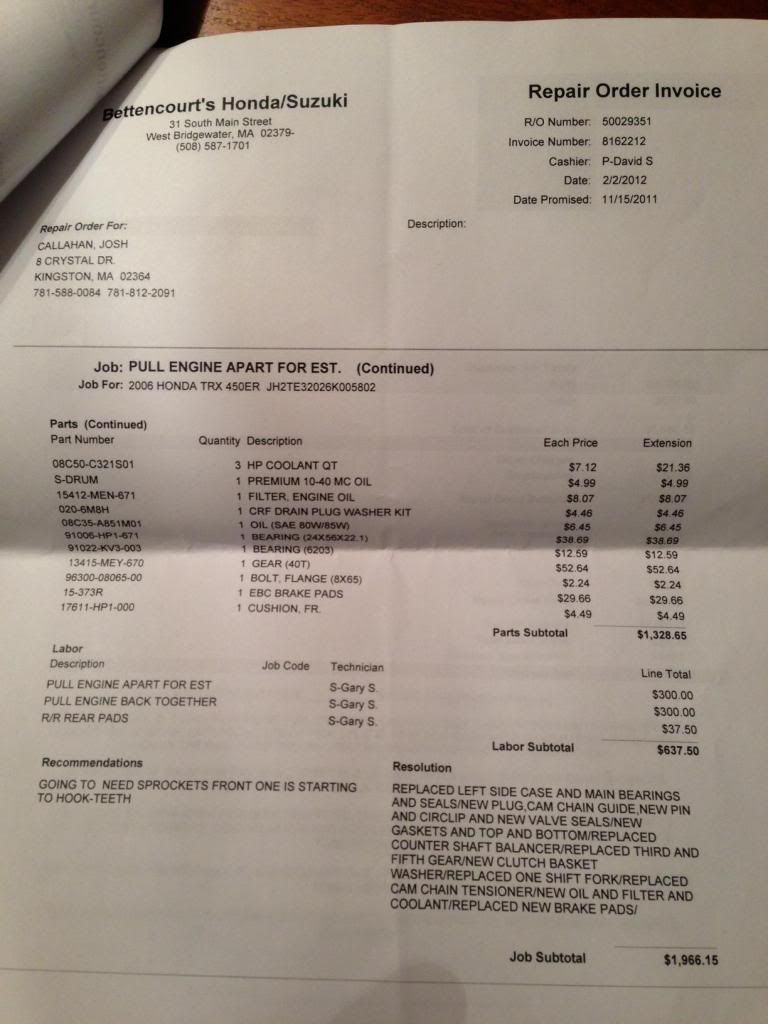 They Replaced more than i initially remembered: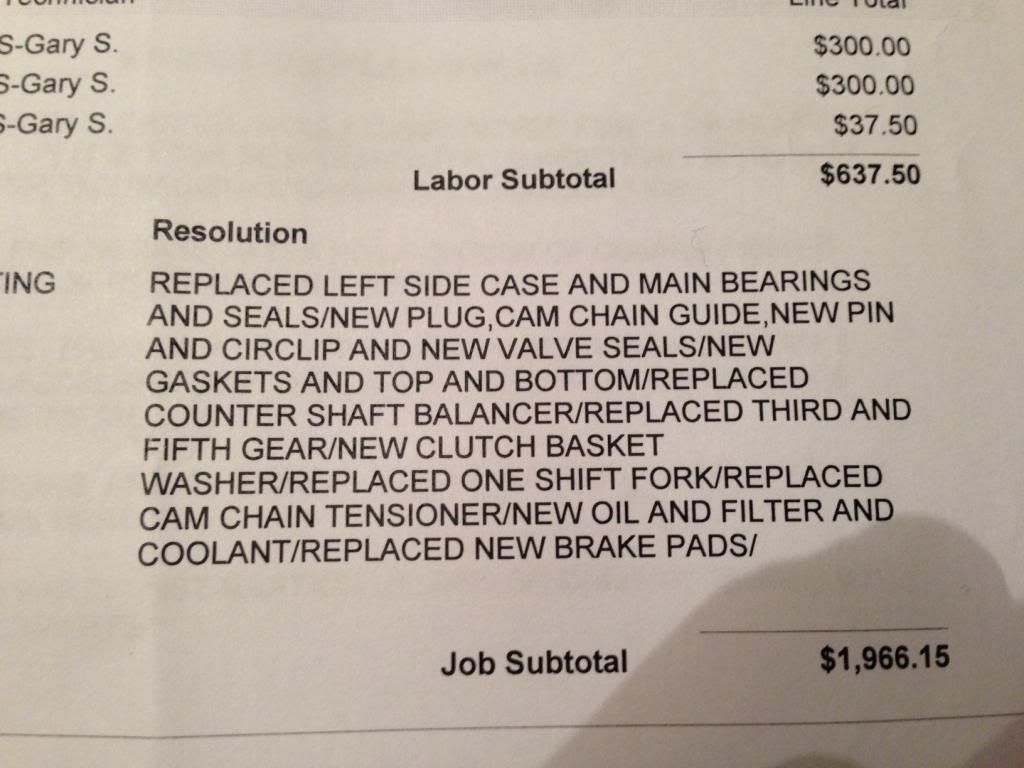 ---
06 ER
JE 12.5:1
HRC Jet Kit
HRC Header
HMF Slip On
HRC Cam
Uni Filter, Lid Removed
Pro Taper
Pro Armor
Moose Poly Case Saver
Black Blob Removed
Good God! That price would kill me! Lol and might want to check into adjusting your tie rods lol
---

Alex
07 Trx450R

Engine:
Stainless Ferrea Valves (On stock shimmed springs)
Stage 2 Hotcam
Curtis Sparks Exhaust
55 Leak
Uni Filter
Chassis:
Front Deseri/Jet Stock Revalves
ProArmor Grab Bar and Bullhorn Bumper
ProArmor Nerfs with Stock Heels
Prm Belly and Swingarm Skid
1/4in Steel Sprocket Guard
Custom +1.5in Stock Stem
Flexx Bars
7.5in LED Light Bar
250EX Rider
Join Date: Feb 2011
Location: MA
Posts: 110
Quote:
Originally Posted by
primos97hunter
View Post
Good God! That price would kill me! Lol and might want to check into adjusting your tie rods lol
Ha! trust me it DID kill me, and its killing me even more just sitting :(
ha! I figured somebody would say something about that! I have replaced them since, the quad was standing up like that for a good laugh at the wheels
---
06 ER
JE 12.5:1
HRC Jet Kit
HRC Header
HMF Slip On
HRC Cam
Uni Filter, Lid Removed
Pro Taper
Pro Armor
Moose Poly Case Saver
Black Blob Removed
250EX Rider
Join Date: Feb 2011
Location: MA
Posts: 110
~bump~
---
06 ER
JE 12.5:1
HRC Jet Kit
HRC Header
HMF Slip On
HRC Cam
Uni Filter, Lid Removed
Pro Taper
Pro Armor
Moose Poly Case Saver
Black Blob Removed
250EX Rider
Join Date: Feb 2011
Location: MA
Posts: 110
nobody??? am i asking too much
---
06 ER
JE 12.5:1
HRC Jet Kit
HRC Header
HMF Slip On
HRC Cam
Uni Filter, Lid Removed
Pro Taper
Pro Armor
Moose Poly Case Saver
Black Blob Removed
TRX90 Rider
Join Date: Feb 2013
Posts: 7
250EX Rider
Join Date: Feb 2011
Location: MA
Posts: 110
Sold it for 2500 bucks :(
---
06 ER
JE 12.5:1
HRC Jet Kit
HRC Header
HMF Slip On
HRC Cam
Uni Filter, Lid Removed
Pro Taper
Pro Armor
Moose Poly Case Saver
Black Blob Removed