Need to sell 2005 450r approx 25hours
new tires holeshot mxr4
new douglas beadlocks
new ITP fronts 4:1 offset
srp steering damper
proarmor pro peg nerfs
lonestar extended axle
houser +2 a-arms
DRD slip on
HRC kit
kill switch
parking brake block off
Gt Thunder revalve and link for 200# rider
original tires brand new only 1 ride
all original take off parts
meticulously maintained oil changed after every ride
3 air filters
$7500 obo
Pm if interested
where are you out of??????
---
Series
Vorra (Vally Off Road Racing Accocation)

Soon to Be
Supermoto
Best in Desert
Riverfront

Sponsors
SixSixOne
Maxxis
Honda Pro Oil
Stockton Honda Yamaha
Chm P-4
TRX90 Rider
Join Date: Feb 2006
Posts: 50
nerf bars go with quad,best offer so far 6500 ,anyone else,add it up you cant build one like this for the price.
anybody ? last chance if I cant get 6800 its getting returned to stock sell for 6000 with gtt still in place.one more week and parts start coming off.Need some help,trying to get custody of my son and need some cash.
If you know anybody looking please send them my way,thanks.
you looking for any trades?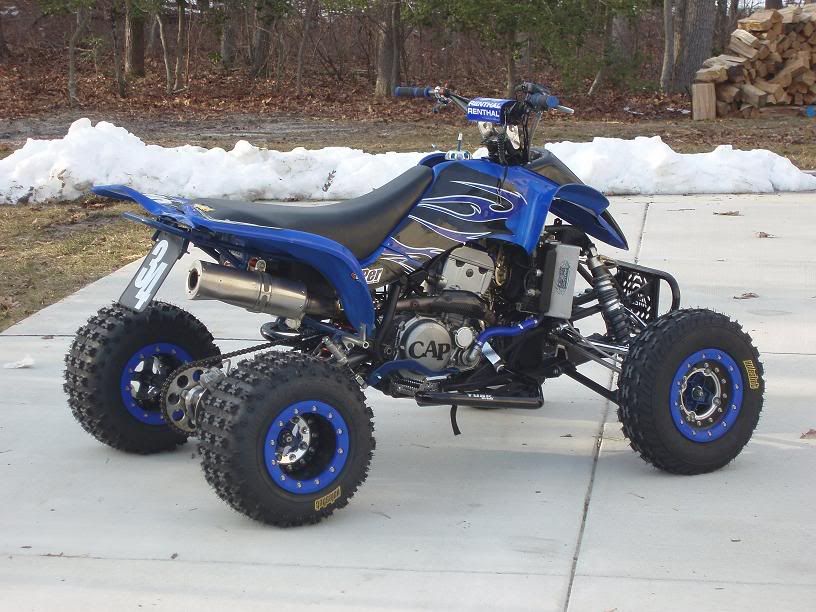 z434
ENGINE:
-Athena 434.4 Cylinder kit
- Athena 94mm piston
- Athena Cylinder
-Drz head gasket
-HotCams stage 2 (intake and exhaust cams)
-Did-x 3/4ths row cam chain
-Yoshimura Competition Full exhaust
-Fcr 40mm Carb (crf450)
-Pro-flow kit
-K&n filter
-Outerwears prefilter
-White bros. 10k cdi
-Removed airbox lid and snorkal
-Fcr jetting - 175 main jet - Needle on 3rd clip - 50 pilot - 2.5 turns out
*Runs on a 50/50 mix of c12(108oct race gas) and 91 octane
*Bel-ray Thumper semi-syn motor oil
SUSPENSION:
-LSR dc-4 A-arms (LT) Chrome tops... Flat black bottoms
-Custom Axis compression ajustable front shocks
-LSR Brakelines (front and rear)
-Lsr Brakeline clamps
-LSR +1.5 swingarm
-Custom Axis compression ajustable rear shock
-Durablue x-33 +4 axle
-Durablue axle locknut
Body/Controls:
-Lsr gusseted Frame Powdercoated flat black
-Blue laker custom plastics
-Maier racing hood (black)
-IMS/ROLL foot pegs w/kickup
-Tusk Black nerf bars
-Renthal cr-high bend Fat bars
-Rox +3 pivot risers
-Rox Dash
-Gibson Steering stablizer(on order, some slow shipping?)
-Alba oil cover
-Alba Starter cover
-Polished motormounts
-Hiper rear rims 9x9 (blue rings)
-Hiper 10x5 (4+1 offset) front rims
-Mxr4 18x10x9 rear tires
-Mx 20x6x10 front tires
-rear 41t Renthal sprocket
-front 15t Renthal sprocket
-ASV clutch lever
-custom cut shorty brake lever
-dg shifter (ims/roll shifter on order)
-new brake rotor
-banshee/lsr chain guide
-Primary Drive chain
-CV4 Blue Rad hoses
-laker customs gas tank cover
-K&K atv tribal graphics
-Feathercarbon Carbon fiber exhaust shield
-Rath Racing Bumper (pc'ed black)
Misc/OTHER PARTS:
-Radiator scoops
-Tusk chrome and blue gas cap w/ vent hose
-Tm parking brake block off
-Pro grip - grips
-K&K rez clamp
-Pro armour killswitch
-Custom timing cap (Dancap #34 inscribbed)
-Kx dirtbike start button
-K&k rear grab bar number plates(black with #34 in white)
-k&k black number plates for plastics (3)#34
-Painted subframe,hubs, other parts (blue)
-Fuel filters
-Reverse removed
I must be forgetting some others..
Motor isnt even broken in yet.. never rode on the new suspension, i just finished the build 2-3 weeks ago!
8k was put into since october, and another 5k before that! all fresh!
---
Cap MotorSports
Current ride:
Can-Am Ds450 XMX with some goodies
-2008 trx450er Mx LSR/Ohlins(parted out August 2011 QOTM)
-LSR/PeP Yfz450(sold)
-ARS-FX/Elka 450r(sold)
-LSR/Axis Athena Z434 (parted out)
come on, someone you,ll be sorry if you miss this one all stock parts except GT thunder shocks 5500 firm