POPS TOOK HIS 2003 KFX400 OUT FOR A BLAST TODAY AND IT JUST STOPPED DEAD IN THE TRAILS. I THOUGHT IT WAS A PLUG BUT WHEN WE CHANGED IT THE OLD ONE LOOKED FINE. THE QUAD STARTED UP AND GOT ABOUT 5 MIN DOWN THE ROAD WHEN IT STOPPED AGAIN BUT THIS TIME WOULD NOT START ANYONE??????????????? COULD IT BE VALVE SHIM CHECK TIME???
---
06
ROSSIER SYSTEM
LID OFF WITH UNI AND OUTERWEAR
162 main 48 pilot 55 leak 2.5 turns out
PRO ARMOR NERFS HEAL GUARD AND FAT PEG
QUAD TECH SEAT
JE 13.5 PISTON
FOX FLOATS FRONT FOX PODIUM X REAR
FOUR PLAY ARMS 2.5 MGC
FOUR PLAY SOFT BARS
JB SWING ARM
PRECISION STEERING STAB.
LONE STAR AXLE AND NUT
LONE STAR CARRIER DUAL BEARING
KICKER CONVERSION
R&D AIR SCREW
QUAD TECH HOOD
stock front sprocket/rear one tooth bigger
GREEN WIRE MOD
ASV CLUTCH LEVER
ALL LIGHTS AND ELECTRIC FAN GONE
either its valve adjustment time or you have a cupped valve(s)
---
KFX525 (basically a ltz400...and yes it still has reverse!)
64.33hp 41.57tq
+10mm stroker, 96mm ice cube, cp piston
13 paddle extremes, Hsr 48mm carb, big custom webs, ported and welded head, titanium valves, titanium wrist pin. Plus 8 swinger, drag axle, drag stem, carbon fiber bars, A few more things. 275lbs wet. Yep it's still heavy, but it's a duner!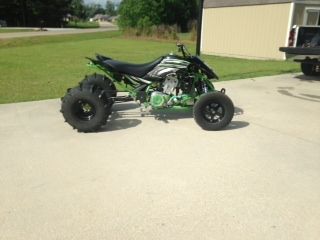 just to let you guys know bad gas lol
---
06
ROSSIER SYSTEM
LID OFF WITH UNI AND OUTERWEAR
162 main 48 pilot 55 leak 2.5 turns out
PRO ARMOR NERFS HEAL GUARD AND FAT PEG
QUAD TECH SEAT
JE 13.5 PISTON
FOX FLOATS FRONT FOX PODIUM X REAR
FOUR PLAY ARMS 2.5 MGC
FOUR PLAY SOFT BARS
JB SWING ARM
PRECISION STEERING STAB.
LONE STAR AXLE AND NUT
LONE STAR CARRIER DUAL BEARING
KICKER CONVERSION
R&D AIR SCREW
QUAD TECH HOOD
stock front sprocket/rear one tooth bigger
GREEN WIRE MOD
ASV CLUTCH LEVER
ALL LIGHTS AND ELECTRIC FAN GONE
bad gas ??.................... i had that today , no one wanted to work near me
---
TRX700XX 727, barker,3 hotcam +1intake valves,PC5
and one mod i'm not talking about
03 ltz 400 white
ported
95 bore JE piston
RHC#208 in & 187 ex cam
+5 hotrods crank
.42mm FCR (Sredrum taper bore)(180mj 48 pj)
EMN needle
R.A.T. Stack
BARKER PERFOMENCE pipe
RHC Ferrea valves +1 intake
dynatek
06 clutch w/450r plates & 400ex springs
04 trx 450r intake boot
trail teck flywheel
+4 swingarm
rear end lowered